IDS grip for Leica Q2 camera features
IDS grip for Leica Q2 camera features
Leica Q series no doubt is a popular camera line in the Leica line of products.
Not only it serves as an entry level (debatable) for new Leica users but also a very popular back up camera for the legendary M series as it preserves the form factor of the M series while adding new features to the camera without the burden of the Leica M series such as auto focus, IBIS... etc.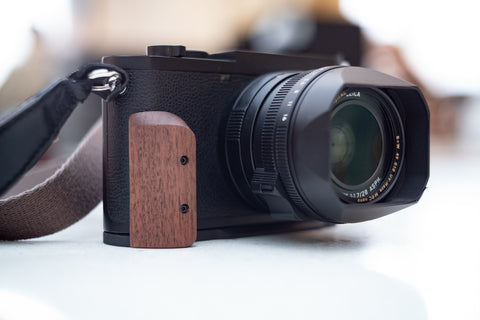 Making an accessory grip for this product line was in my agenda for sometime already but I only started late because it is until recently that I acquire Q2M. It is becoming my go to camera for street shooting very quickly due to the high pixel count and quick start up response. The Leica Q series 28mm is indeed magnificent.
Cosmetically I am not fully satisfied with the exposing bottom screws and I wish to cover them while retaining the tactile feeling on the bottom. We also want to minimized the weight for the grip as a great potion of Q2 users are ladies.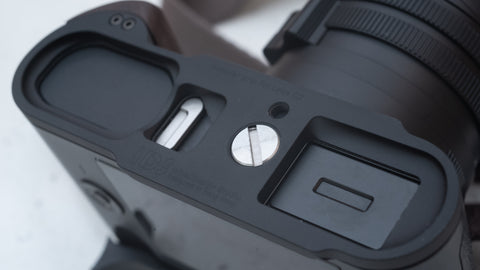 In our design we have patented on the openings (cutout) for the battery access, battery release access as well as the SD card access. Some makers of third party grip have simply make cut out with simple straight openings, which is not very friendly on your fingers. We make the starting point of the openings different from the end point of the openings with smooth transitional curvature. Such design not only fully covers up all the exposing screws but also creating a much pleasing looks and feels on operation. Also all contacting surfaces are paded so that no metal to metal contacts with your camera.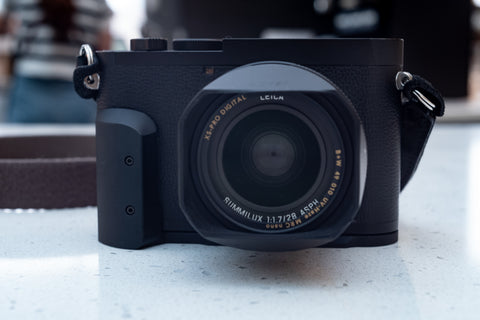 Q2 is an entry level camera to the Leica world therefore we have simplified the design to the point that it's much more acceptable for new Leica users. It requires much less part to make that my other products.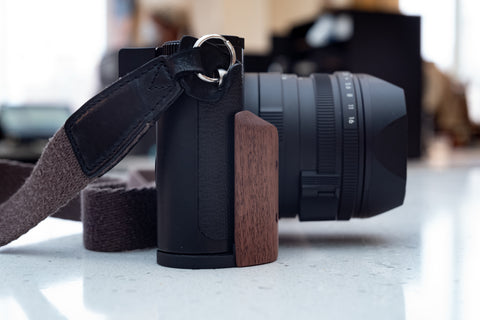 The bottom of the grip plate is only 4.5mm thick visually but the overall grip feels the sames as my other products for M series. In fact they share the same grip pads.
Note: As this Leica Q2 grip is only 4.5mm thick, the screw hole you see is NOT for standard 1/4-20 tripod thread. There isn't enough depth for old style tripod. For tripod user you can use the on grip ARCA rails (38mm standard) for your ARCA style ball head. The screw hole there is M5-8 which is designed to be used along with our LES DOWN bracket.
The base of this Q2 grip only comes in black while there are three options for your to choose on the grip pads (Walnut, Africian black wood, Black Aluminum)